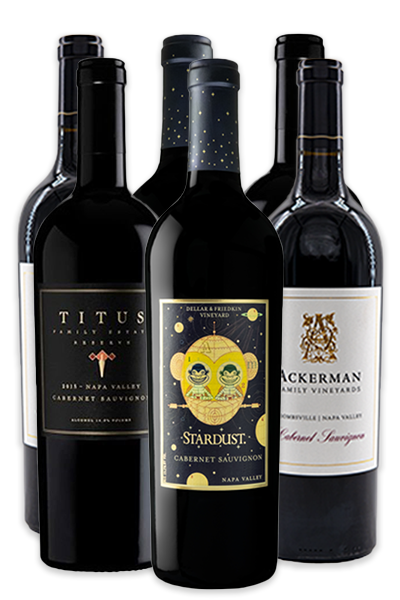 2021 Inaugural Shipment
Start sipping the first curation now. This inaugural shipment will be shipped immediately if the order is placed before November 8th.
ACKERMAN FAMILY VINEYARDS
2016 CABERNET SAUVIGNON
NAPA VALLEY
BACKGROUND Former tech entrepreneur, vintner and philanthropist Lauren Ackerman founded Ackerman Family Vineyards 1994 with her husband after purchasing the small Stonehaven property in Napa's Coombsville district. The following year, they produced their first wine and, in 2003, they released their first commercial wine, a Cabernet Sauvignon from the Ackerman Family Estate. Theirs became the first certified organic vineyard in Coombsville in 2009.
LIMITED EDITION 100 cases
VINEYARD Napa Valley's Coombsville AVA, Stonehaven Vineyard
WINEMAKER Leo Tellez, who has also made superb, small-production wines for Kapcsándy and Blankiet in Yountville, Repris and Sodaro Estate.
HARVEST & CELLAR NOTES The ongoing drought kept yields low but quality high for this fifth of five exceptional years in Napa Cabernet-making. Ackerman vines have been certified organic since 2009. The grapes are put through a cold soak before fermentation in stainless steel and secondary malolactic in French oak. The wine spent 24 months aging in barrel.
TASTING NOTES A bouquet of blueberries, violets, plum, graphite and soft cedar meet the nose. It's medium- to full-bodied with beautifully integrated tannins: pure velvet in the mouth, it's well balanced with a lingering finish. Drink now, but it will only get better with 15 years in the cellar.
STARDUST
2015 CABERNET SAUVIGNON
NAPA VALLEY
BACKGROUND Since 2006, the Dellar and Friedkin families have produced an award-winning, single-vineyard Cabernet Sauvignon on the rocky soils in the eastern foothills of Napa Valley. The 8.3 acre vineyard on Soda Canyon Road sits south of Stags Leap and below Atlas Peak. This is primo Cab-growing land.
As a restauranteur for more than 40 years, Michael Dellar appreciates purchasing red wines with extra bottle age rendering them ready to drink upon release, but with a long future. We love how he thinks. Stardust is such a wine, and the 2015 is the current vintage release.
LIMITED EDITION 100 cases
VINEYARD Napa Valley AVA, Dellar & Friedkin Vineyard
WINEMAKER Megan Gunderson, who has also worked her magic with Hall, Dominus, St. Supéry and Robert Mondavi wines.
HARVEST & CELLAR NOTES The 2015 growing season was the fourth of five consecutive years marked by drought, low yields but outstanding quality in Napa Cabs. This wine spent two years aging in barrel, with an additional 27 months in bottle before release. It's ready to drink now, though it could easily go another decade in the cellar.
TASTING NOTES The small crop yielded a concentrated wine, deep garnet in color with a spice box nose of cinnamon and cloves and deep black cherry and black currant flavors. In a word: delicious. A persistent finish lingers on the palate thanks to two extra years of bottle-aging.
TITUS VINEYARDS
2018 FAMILY ESTATE RESERVE CABERNET SAUVIGNON
NAPA VALLEY
BACKGROUND Titus Vineyards is a second-generation, family-owned and -farmed estate producing high quality grapes for other limited-production, premium Napa Valley wines, such as those made by Charles Krug, Beaulieu Vineyards and Cuvaison. For more than two decades, Philip Titus has been the winemaker at Chappellet's Estate on Pritchard Hill, which is where he met Stephen Cruzan, who worked at Cade before becoming the winemaker at Titus. Their deep experience pays off with this Estate Reserve bottle.
LIMITED EDITION 1,100 cases
VINEYARD Napa Valley's St. Helena AVA, Ehlers Lane Vineyard
WINEMAKER Stephen Cruzan, who has also made outstanding wines for Cade, Kathyrn Hall Vineyards and Chappellet.
HARVEST & CELLAR NOTES The 2018 growing season was about as good as it gets: long and slow in Napa, leading to excellent balance of sugar and acidity. After harvest, the wine spent 22 months in new French oak.
TASTING NOTES This Cabernet Sauvignon has a splash of both Malbec and Petit Verdot, rounding out its plush mouthfeel. It shows off the concentration and depth that is typical of the vines grown in the rocky soil of this vineyard. Aromas of cassis, blueberry, roasted coffee and molasses are lifted by floral notes. The body is dense and powerful, with mouth-coating tannins. It finishes rich and long, with notes of cigar box, dark chocolate and espresso. Enjoy now and through 2029 to 2038.